Samples for fingerfood catering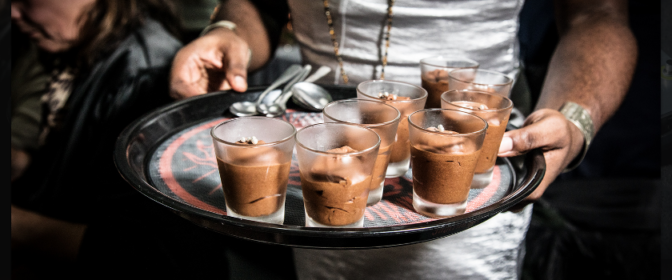 Following menus are samples for fingerfood catering. They can be extended and combined as you wish.
For an easy comparision we calculated for the menus 5 pieces of fingerfood per person and an event with 50 guests.
All prices excluding VAT.
As at May 2017: Please consider possible price adjustments.
Suggestion 1
Sesame meatball
Spinach roll
Zucchini, goat cheese and mint puffer
Jerk chicken skewer
Mini veggie quiche
Price: 525 EUR
Price per fingerfood: 2.10 EUR
Suggestion 2
Spinach and salmon roll
Oriental lamb balls with mozzarella and mint
Zucchini coriander sole and red pesto roll
Mini pizza with pear and brie
Crispy cornflakes and sesame chicken strips with mango yogurt sauce
Price: 737.50 EUR
Price per fingerfood: 2.95 EUR
Suggestion 3
Cocktail beef patties
Ackee & saltfish quiche
Jerk chicken wraps
Swordfish skewers
Spicy curry-lentil rolls
Price: 800 EUR
Price per fingerfood: 3.20 EUR
For explanations of jerk and ackee, please check our food lexicon.